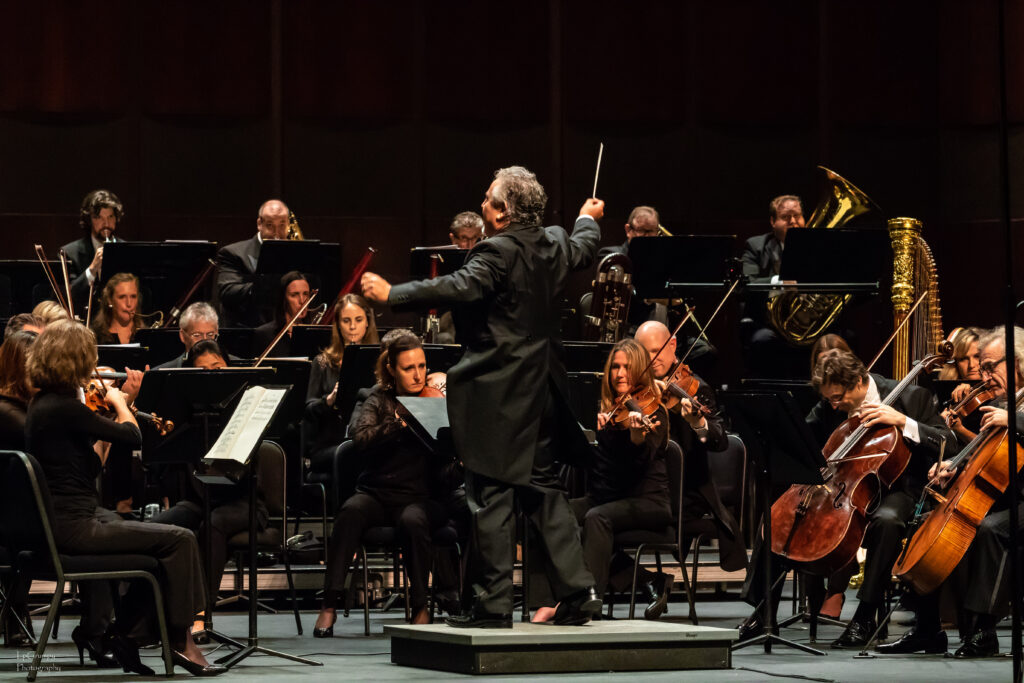 It is the mission of our orchestra to inspire, educate, entertain and involve the children, youth and adults of our community in the enjoyment of great music.
We believe in the transformative power of music to change lives. We will grow and nurture the audience of today and tomorrow through exciting, inclusive, innovative, and impactful music in a welcoming and engaging way. We seek to serve our community through programming and music education that reflects our diverse North Texas region.
To achieve our mission and vision, we are driven by the following values:
Involvement with community
Relationships/family/ feeling welcome
Inclusion and diversity
Education
Great music
Artistry
Service
Innovation
Entertainment
Equal Opportunity is the Plano Symphony Orchestra policy. It is our policy to select the best-qualified person for each position in the organization.
No employee of the PSO will discriminate against an applicant for employment or a fellow employee because of race, creed, color, religion, sex, sexual orientation, national origin, ancestry, age, or other physical or mental disability. No employee of the PSO will discriminate against any applicant or fellow employee because of the person's veteran status.
This policy applies to all employment practices and personnel actions including advertising, recruitment, testing, screening, hiring, selection for training, upgrading, transfer, demotion, layoff, termination, rates of pay, and other forms of compensation or overtime.

Established as the Plano Chamber Orchestra in 1983, the Plano Symphony Orchestra has grown to be the premier musical organization of North Texas. 
Now touching the lives of over 190,000 North Texans annually, including up to 40,000 children in various education programs, the mission of the Plano Symphony is "to inspire, educate, entertain and involve the children, youth and adults of our community in the enjoyment of great music. "
During the recent 2017/18 35th Anniversary Season, numerous events celebrated the history of the orchestra, including a dinner bringing volunteer and staff leadership together spanning all 35 years. An inaugural year balance sheet at the event reflected a budget of only $10,500 compared to the 2018/19 Season budget of $1,750,500. The orchestra has gradually expanded its offerings to now include over 125 concerts and solo, ensemble and education events annually.
Over a decade ago, the Plano Symphony made the decision to do away with the usual industry distinction of either classical or "pops" concert series, developing a strategy for combining many forms of music into a season. It also became "fanatical about relationships," creating patron engagement and retention strategies. This resulted in increases in attendance from 55% to 100% capacity and increased subscriber renewal rates from 55% to 85%.
A separate website for young students, their teachers and parents is part of a comprehensive education program that has grown significantly over the years. The cornerstone is the School Concerts, which include music studies aligned with school curriculum, attendance at a Plano Symphony concert, and musician in-school visits. Also part of the Symphony's vibrant education offerings are the Instrumental Petting Zoo that tours North Texas locations all year long, the popular Family Concert Series, and the Collin County Young Artist Competition. 
Community engagement has been an important element of growth. Along with ensembles performing regularly in North Texas communities and the full orchestra playing for various organizations and events, a recent addition to the program is Healing Notes. These performances combine music with Music  Therapy. In addition, scholarships for a year of private music lessons are awarded to deserving students as chosen by school and symphony leaders.
The Plano Symphony's activities are supported by numerous volunteers from the Board of Directors to an active Guild. The Guild coordinates support for numerous events from post-concert receptions and patron appreciation events to an annual Gala, which often nets the Symphony considerable and required funding. Even playing to sold-out houses, ticket revenues cover only 33% of the orchestra's annual budget. The balance is raised from individual donors, corporations, foundations and special events. 
The Plano Symphony's annual subscription series takes place at the 1,550 seat Eisemann Center with one or two performances annually at St. Andrew United Methodist Church in Plano, which also seats 1,550. Family Series Concerts for children 3 – 12 and their families take place in a variety of locations from the Eisemann Center and City of Plano's Courtyard Theater to performance venues in Frisco, McKinney and others. 
The Plano Symphony Orchestra is a fully-professional orchestra served by a professional staff devoted to the highest artistic quality. Hector Guzman has served as Music Director of the Plano Symphony since its first season. For further information, please call 972-473-7262.